GXFS Connect 2023 – Entering the next level
On 5 and 6 September, as part of GXFS Connect 2023, we discussed with you,
how the various players in the Gaia-X universe are progressing with the implementation of the Gaia-X Federation Services (GXFS)
and how the establishment of the first Gaia-X federations has been successful.
We shared with you current experiences from Gaia-X funding projects and lighthouses and brought you closer to GXFS implementation strategies.
In exchange with the Gaia-X DE-HUB domains you learned about user requirements and how use cases are set.
Let's shape the future data infrastructure together – secure, open and transparent.
Photo Gallery & Recordings
Timetable
5 September,
Conference & Tech Workshop,
13:30 – 17:30
5 September,
Networking Event,
18:00 – 22:00 p.m.
6 September,
Conference & Tech Workshop,
9:45 – 17:00
Topics
# Find out what progress the Gaia-X funded projects are making

# Learn about the Gaia-X Open Source Community's current discussions
# Get to know, how interoperability can make the entry into the Gaia-X ecosystem easy

# Experience GXFS Tech Workshop #3 first hand
# Explore how trust in digital ecosystems can be created

# Listen to what the Gaia-X Hub Germany is up to
# Hear the latest insights into GXFS implementation strategies from the Gaia-X projects

# Join the GXFS Community in exploring how GXFS and other FOSS components can work together

# Learn about challenges and opportunities for Gaia-X in the legal field

# Meet the European Gaia-X Community and find out which projects are active outside of Germany
# Find out how you can contribute in the domain working groups
Networking Event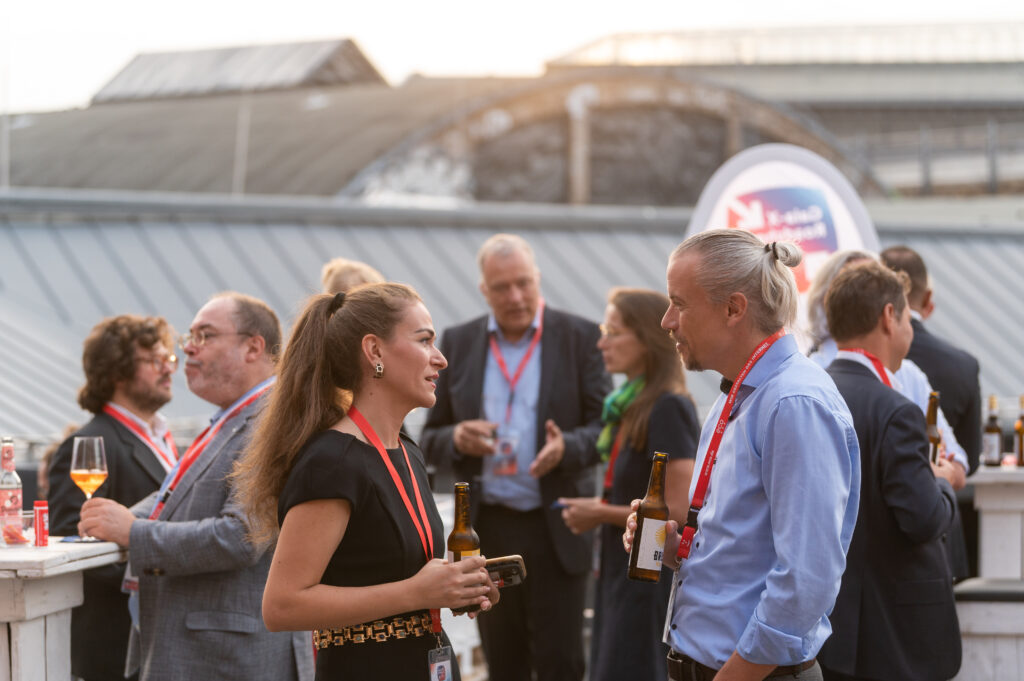 Gaia-X Roadshow powered by eco
On the evening of conference day one, 5 September, at 18:00, we invited you to network in a relaxed atmosphere at the Gaia-X Roadshow powered by eco. In St. Elisabeth church and its park (located next to Villa Elisabeth), you had the opportunity to talk and to network with your peers while enjoying fingerfood and drinks.
Location
GXFS Connect and GXFS Tech Workshop #3 will take place at Villa Elisabeth this year. The networking evening on 5 September will take place at St. Elisabeth church.
Address:
St. Elisabeth + Villa Elisabeth
Invalidenstr. 3, 10115 Berlin
Your Benefits
Quality
Reliable first-hand-information
Insights
High-quality keynotes and panels with best practice
Networking
Meet the Gaia-X community and expand your network
Exclusivity
We invite you to an exclusive networking event
Stay up to date!
Don't miss anything and get first-hand information about GXFS-DE.